This is a Montblanc Masterpiece 20 in coral red made in Germany around 1940 for export. Import restrictions on German items started in 1933 in Denmark, which meant that Danish variants of the Hamburg-made pens had to be slightly different "taper cap" design so as to be identifiable as originating at the Copenhagen factory.
Interestingly, the imprint on the cap, seen above says "Masterpiece" instead of the "Meisterstück" which indicates that the pen was made for export, as discussed on this page.
The 20 is a "push-knob" filler, which I've explained on this page which shows another Montblanc 20. The pen is showing typical signs of age – the browning ebonite cap top and cracks in the white logo, for example. The ebonite can be gently sanded down to the original black, but this would mean a loss of the chased lines – which is not a price that I am willing to pay.
The #4 nib, seen above and below, is an extra fine with an easily controllable flex with the "4810 M" imprint. (4810 is the height of Mont Blanc in metres, and the M, was maybe for "Montblanc" or "Masterpiece" but certainly not for "Medium".)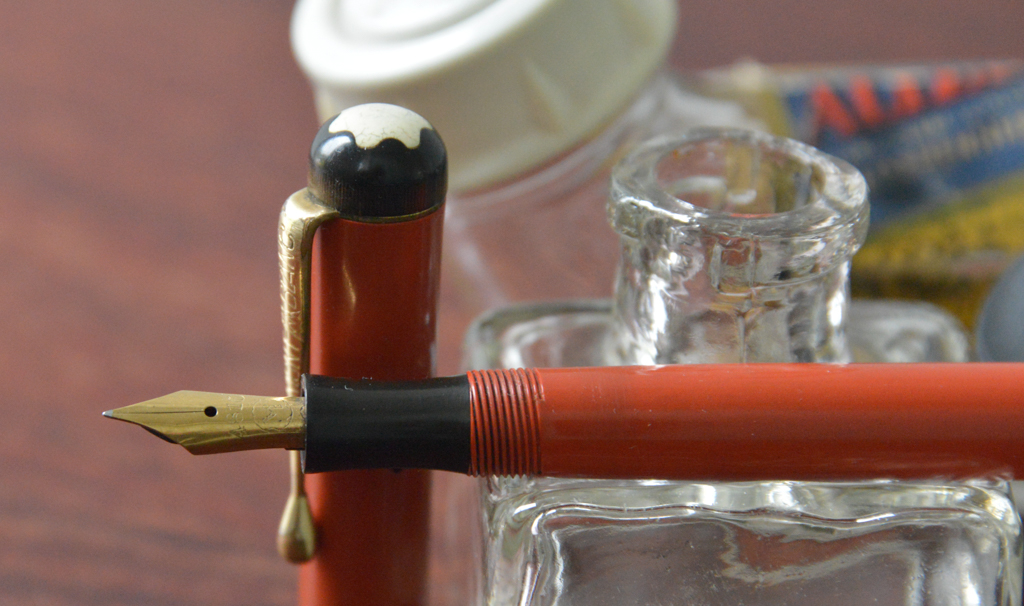 Unlike my other Montblanc 20, this pen is almost identical to that shown in Montblanc in Denmark 1914-1992 by Holten and Lund. The only difference is that this pen has a clip with the Montblanc imprint rather than the simpler clip as seen here.
Total weight (filled):15.7 g
Body weight (filled): 9.7 g
Total length (not posted): 112.0 mm
Total length(with cap): 123.4 mm
Barrel max diameter: 10.8 mm
Cap max diameter: 12.3 mm
V2020023