Parker 180 Green Malachite
The Parker 180 was released to the market in 1977, but the company had already trademarked the name back in 1974. The original advertisements from the 70's stated "One nib. One point. Two ways to write." This is because the pen is designed to be used "right side up" and "upside down" with two different line widths.
This particular pen is a Fine and a Bold, as is indicated on the black plastic feeder on the underside of the nib, shown below. The dual nature of the pen was the inspiration for its name – since you rotate it 180 degrees to change to the other line width. However, this brilliant marketing statement helps you to forget the fact that almost any fountain pen can be used upside down – and will typically give you a much finer line as a result.
As can be seen in the photo above, the nib is support both above and below by the feeder assembly. The top metal part is "welded" to the lower plastic part by a melted pillar that is inserted through the nib and upper metal portion.
One of the potentially useful aspects of this design is that the nib is extremely stiff – which was good once-upon-a-time for writing on multiple layers of paper for making copies. It also means that the pen will probably survive when a colleague "borrows" it in a meeting…
Another nice aspect of the 180 design is the fact that it's postable without much risk of leaving a scratch on the barrel. The the silver ring where the section meets the nib is slightly tapered to be gripped by a spring clasp inside the barrel. Notice that the "tassie" at the end of the barrel is the same diameter and shape – so there is a reassuring "click" when posting the cap.
The photos below show some closeup shots of the nib. As you can see there, the tip of the nib is initially welded onto the nib as a ball, and then asymetrically ground to a taper (top-to-bottom) to create the two line widths. This is more obvious on the second photo – taken with an iPhone stuck on top of my son's microscope.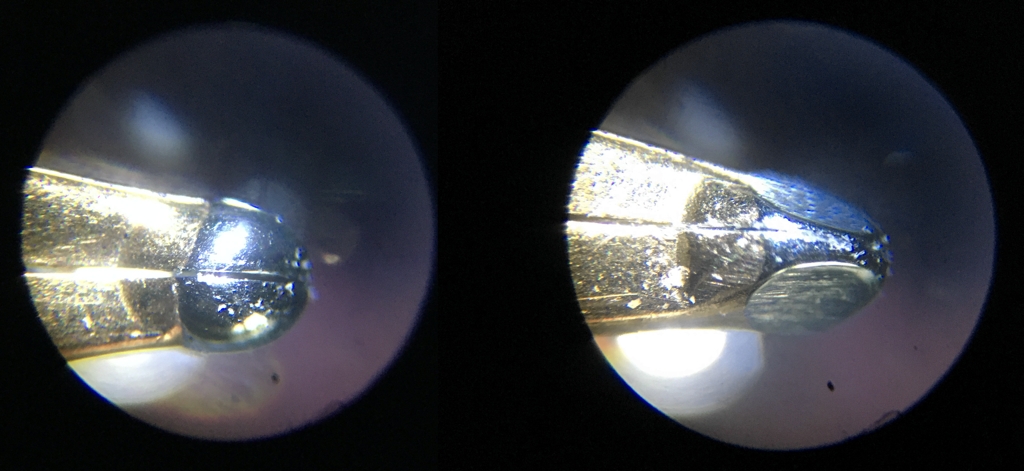 If you compare the statistics below with those on this page, showing a 180 Imperial, you can see that the dimensions are the same but this pen is about 4 g lighter due to the construction materials.
Total weight: 15.1 g
Body weight: 8.4 g
Total length (not posted): 123.8 mm
Total length(with cap): 132.1 mm
Barrel max diameter: 9.4 mm
Cap max diameter: 9.5 mm
More info on the 180 can be found at the following links:
Parker Pens Penography: Parker 180
180 vs. Classic identification
Richard Binder's page on the 180
V2020006