This Waterman's 513 in Tiger Eye (or Tortoise shell – depending on where you look) was probably made around 1940 in England. It's a celluloid pen with the 14 carat gold 2A nib. With a very light hand, the nib writes a fine line, ranging from about 0.2 mm up to about 1.2 mm with significant pressure. I'm currently using it with the Pilot iroshizuku ina-ho ink, however, the result is that the pen lays a little too much ink down on the paper, making it difficult to get a fine line when writing normally (see the writing example at the bottom of this page). I'll have to find a slightly more viscous ink – or tune the nib to reduce the flow a little.
This pen has the Waterman boxed lever, as can be seen in the photos. The 513 had an Art Deco stepped clip design and 3 gold cap bands (the 503 was a similar design, but had only 2 cap bands and no lever box).
I purchased this pen in what I assume is the original box, which is a little worse-for-wear, but still nice to have. The section is a friction fit, but with an interesting knurled pattern, which results is a secure connection to the barrel, but was easy to re-assemble (disassembly required the typical balance of heat, patience, and firm persuasion). The pen itself is in excellent condition with almost no scratches.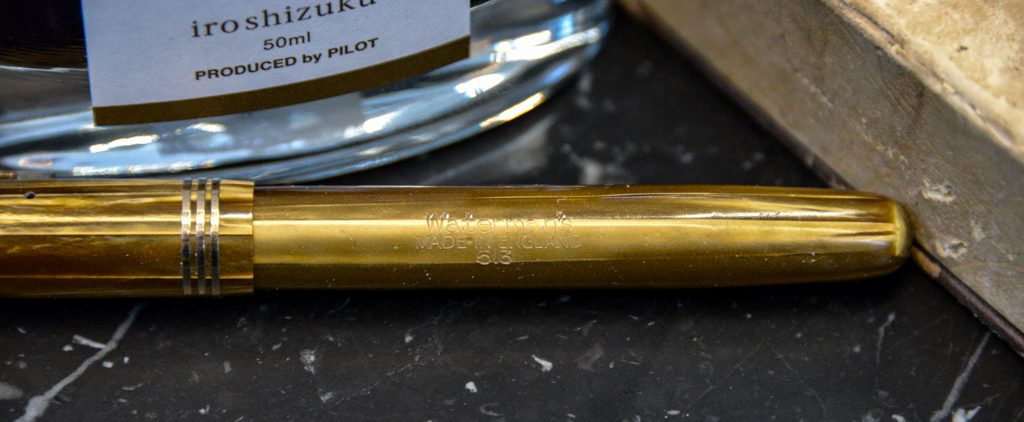 Total weight: 15.8 g
Body weight: 10.3  g
Total length (not posted): 118.2  mm
Total length(with cap): 129.4 mm
Barrel max diameter: 11.8 mm
Cap max diameter: 12.9 mm
V2019008