Sheaffer Triumph Lifetime No. 1000
This Sheaffer Triumph 1000 with a Lifetime nib was made around 1948. It is a vacuum filler, a system often seen in older Sheaffer's and Onoto's.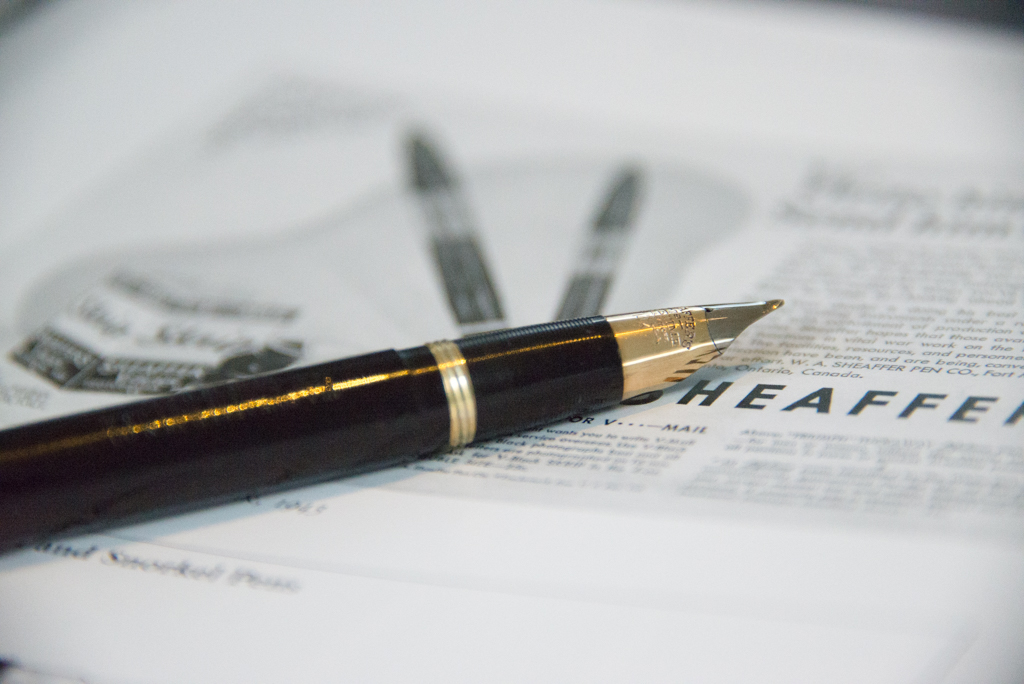 The Lifetime nib has two distinctive features. The first is the conical shape, wrapping entirely around the feeder assembly. The second is the slightly upturned tip – similar to a "fude" nib. This results in a typically smooth nib, but without any flex whatsoever.
As can be seen in the photo above, the section has a striped ink window – but it's only visible when holding the pen up to the light.
The typical Sheaffer imprint on this pen is very crisp, as is the small "1000" just below it. It is also engraved with the name of the previous owner – H. Hellstrom.
If you've never used a vacuum filler, the system can be quite surprising. The end cap (visible in the photo above) is unscrewed and pulled out of the pen before the nib is dipped in the ink. The nib is then submerged, and the end cap is pushed back towards the barrel. This action moves a plunger down into the barrel, creating a vacuum behind it. When the plunder reaches the bottom, the vacuum chamber is opened to the front of the pen, and the ink is sucked up into the chamber. This is done only once.
Total weight: 15.7  g
Body weight: 13.3  g
Total length (not posted): 107.8  mm
Total length(with cap): 128.0 mm
Barrel max diameter: 11.4 mm
Cap max diameter: 12.6 mm

V2018062