The Geha Company was started in Hannover, Germany in 1918 by two brothers, Heinrich and Conrad Hartmann. (The company name is a shortened form of Gebrüder Hartmann, or Hartmann Brothers). The company, which started production of fountain pens in the 1950's, was bought by Pelikan in 1990.
This NOS (New Old Stock) Gold Wing(or Goldschwingen ) 735 was made between 1962 and 1969. The 735 is a piston filler as can be seen in the visible ink window in the photos, although there was also a 735P model, which was a cartridge filler. The 14 carat gold nib is inlaid, similar to many Sheaffer models.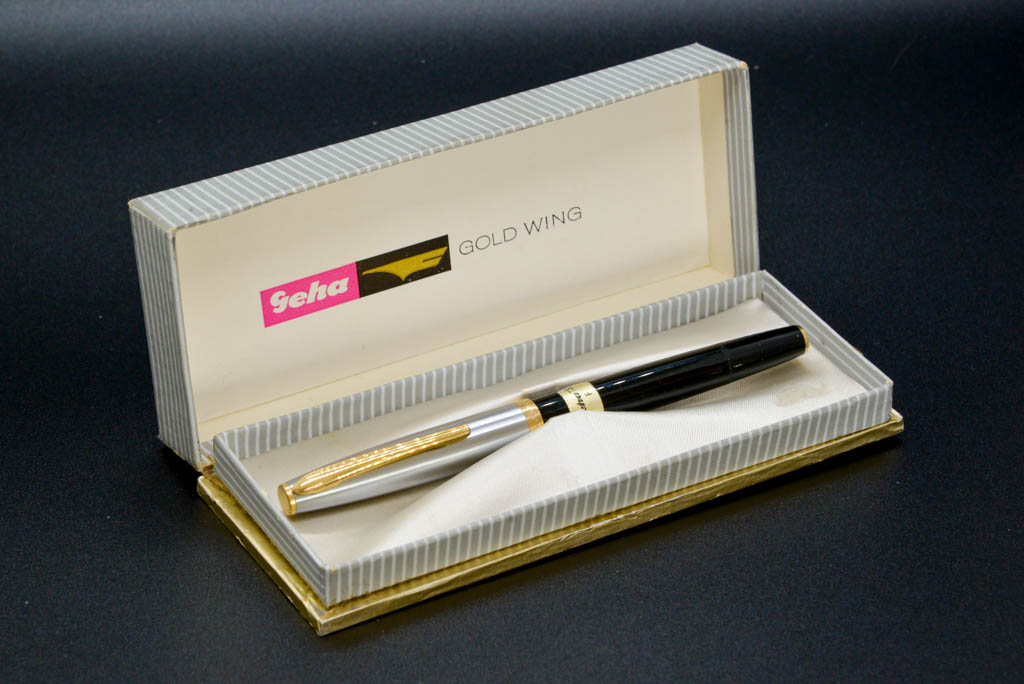 This is a light, small pen and has a small amount of flex in the fine nib – however, it does require a more-than-gentle amount of pressure to spread the tines.
It also has the Geha "Reserve tank" – a small "extra" reservoir of ink that "will suffice for several pages". When the piston is pushed forwards to fill the main reservoir, it pushes a small button located in the feeder outwards towards the tip of the nib. In order to release the ink in the reservoir, this button is pushed back into the pen, as shown below.
Of course there is really no such thing as a "reserve tank" – and one wonders whether it would not have just been smarter to leave out the parts required to execute this marketing stunt to make room for more ink… However, there are many products where the story is better than reality…
Permanent or Lifetime guarantees were last-ditch efforts made by many fountain pen manufacturers to try to boost sales lost to ballpoints.
Total weight: 14.4 g
Body weight: 7.2 g
Total length (not posted): 122.4 mm
Total length(with cap): 130.4 mm
Barrel max diameter: 10.5 mm
Cap max diameter: 11.2 mm
V2022009
See this page for more information on Geha pens in the 1960s (in German).