Parker "Streamlined" Senior Duofold
The Parker Duofold has a long history (starting in 1921) – long enough that an entire book has been written about it (good luck finding a copy…) AS a result, it is not merely one pen model – but had multiple variants over decades of production.
In 1929, Parker introduced a new design of the Duofold, nicknamed the "Streamlined" variant, due to the tapering of ends of the pen – at the blind cap and the top of the cap. This pen is identifiable as coming from the 1930's by the imprint. The first Streamlined Duofolds read "Duofold Patented" in the centre. This was changed to "Parker Duofold" in 1930, and the model was replaced with one with three cap bands in 1932.
This pen has the Christian Olsen logo – a "CO" with an anchor, although it was made in the USA. Olsen was the Danish importer of Parker, and had not only a business relationship, but also a personal friendship with the Parker family.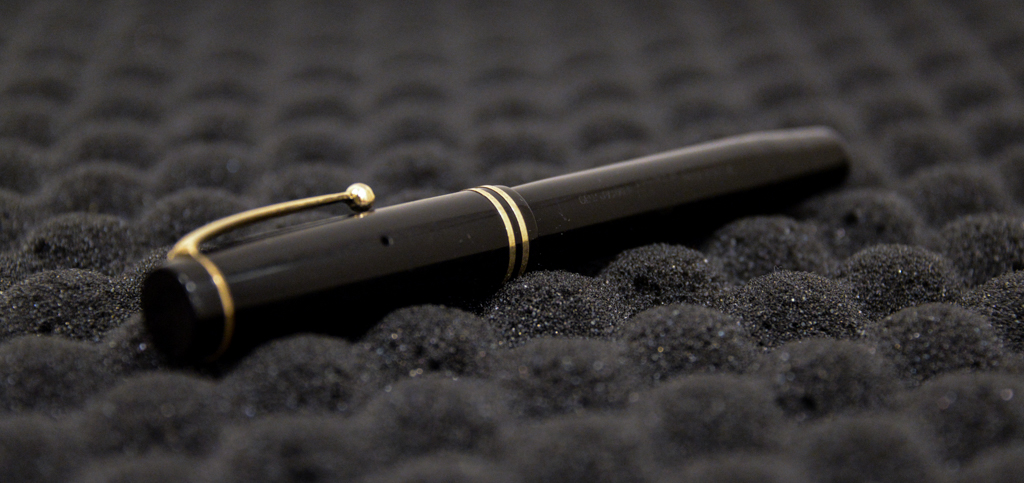 Unfortunately, when I found this pen at a flea market, it had a severe crack running through the entire friction-fit section. So, in order to get the pen up and running again, it was necessary to make a new one using an acrylic blank. The only black acrylic that I had available had a subtle metallic sheen… However, this is okay with me, since it makes it fairly obvious to a professional in the future that this is not an original part (The curve of the section is also a little off… the original had a straighter taper leaving the top of the barrel, with a tighter curve at the end of the section) – however, without close inspection, it matches the pen very well, and certainly makes it a usable writer again.
The nib on this pen is, like many of the larger Duofolds, very firm. It requires a significant amount of pressure to produce a wider line and is therefore not really suited to a flex style of writing. It is, however, a smooth writer – despite being a fine (or maybe even approaching an extra-fine) by European standards.
Total weight:22.1 g
Body weight: 15.0 g
Total length (not posted): 125.4 mm
Total length(with cap): 129.4 mm
Barrel max diameter: 13.4 mm
Cap max diameter: 15.3 mm
V2017110
More info on the history of the Duofold can be found here.