This piston filler from the 1950s is the largest in the 25x series.  It was designed by Albrecht von Goertz, a German-American who primarily designed cars for manufacturers such as BMW and Toyota. The smallest in the series, the 252 can be seen on this page.
The distinctive aspect of the 25x series is the so-called "wing nib" (also known as a "butterfly nib") which was an attempt to create a nib with a fair amount of flex, but without the tines spreading too far apart as can be the case with a convex curved nib, meaning that an increased ink feed was not necessary. This was achieved by making the nib flatter than usual, but adding strength using side walls.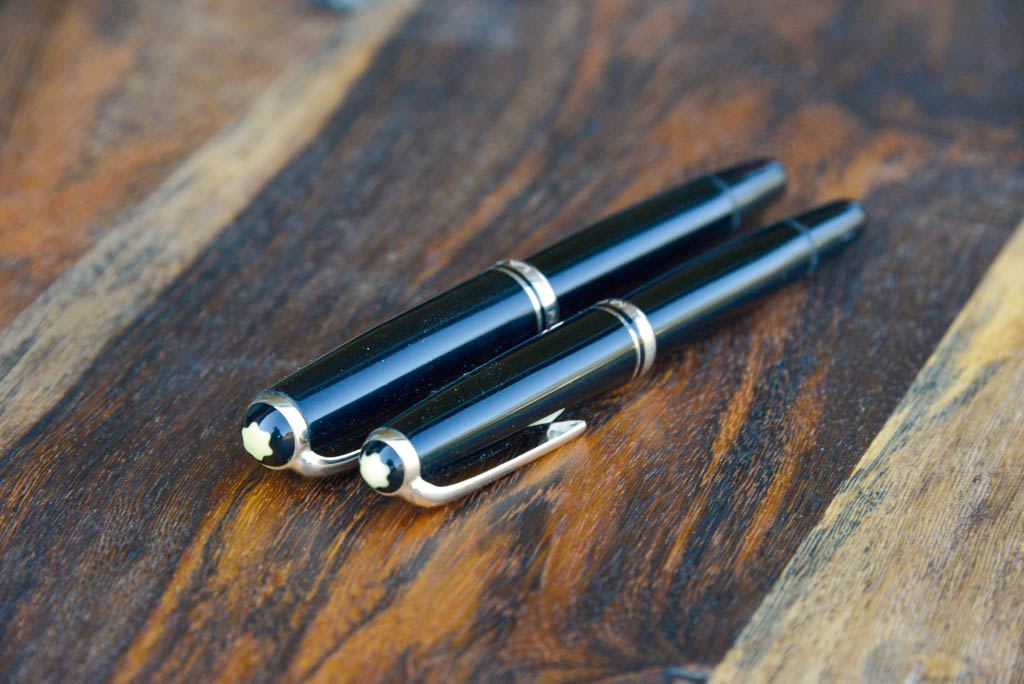 The 25x series has a reputation of developing cracks in the cap over time, and this one is no exception. I've stabilised the cracks and cleaned up the cosmetics, but the only real solution with 70-year old celluloid is to replace the cap. Some fine scratches are still visible from my polishing job – but I'll clean that up later.
I've posed this 256 next to a 252 so that the difference in size can be easily seen. Generally, the 256 is about 10 mm longer and 1.5 mm wider than the 252, and it's about 1.5 g heavier without the cap.
Total weight: 20.1  g
Body weight 13.1 g
Total length (not posted): 116.1 mm
Total length(with cap): 131.0 mm
Barrel max diameter: 13.0 mm
Cap max diameter: 14.5 mm
V2021009