This is a prototype for a new design, made of grenadilla and brass. In this one, I've hidden the section inside the brass portion of the barrel to arrange that the threads for attaching the cap are on the interior.
This pen has neither a roll stop nor a clip. The design is intended to be a "clean" cylinder. The cap is turned out of solid brass, as is the top portion of the barrel. When capped, it's quite top-heavy, however the bulk of this mass is in the cap, so the pen is still balanced when writing.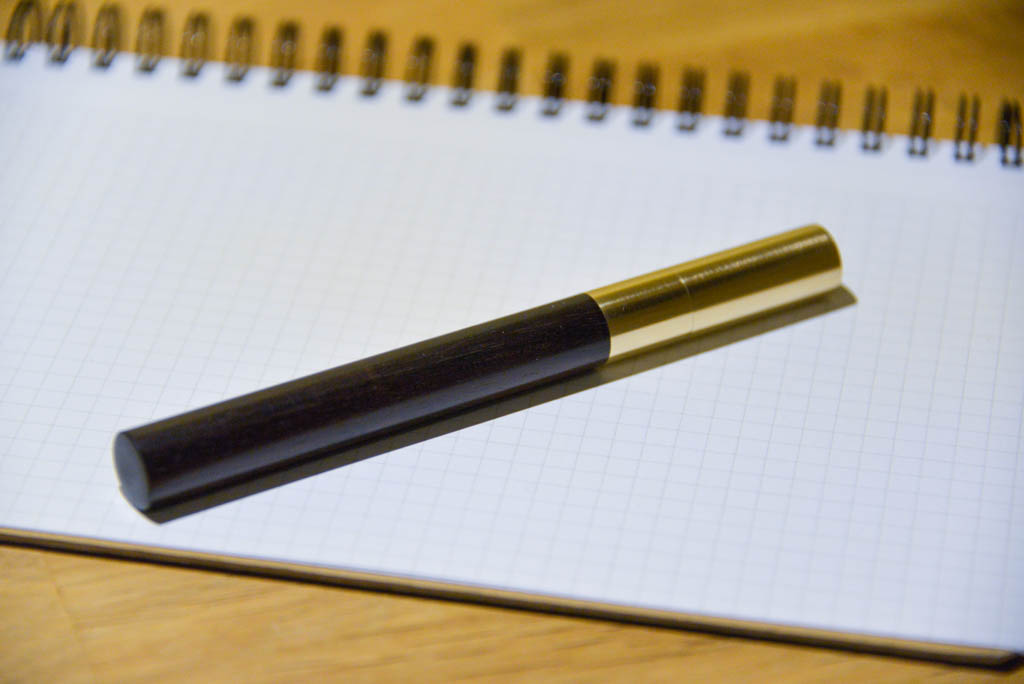 Of course, the pen is not postable, since there are no matching threads on the end of the barrel. However, this is intentional not only for the design, but also because the cap is simply too heavy, and would unbalance the pen if posted.
It's currently fitted with a Bock extra fine nib.
Update: Form follows function
So, although the pen looked lovely, it was a pain to write with because of the polished brass at the grip portion of the barrel. It was just too damned slippery.
If I want to keep the overall cylindrical shape of the pen (which I do) and fix this problem, there are two obvious solutions:
Make a new one where there's less brass at the grip, so the wood extends further up towards the nib. This makes for a nice feel, since the wood is warm to the touch immediately.
Roughen up the brass a little so that it's less slippery.
The fastest of these is the second one, so I protected the wood and sand-blasted the grip to roughen it a little. This was done with the cap on, because I attempted to make a gradient in the texture from the rough to the polished brass at the top.
As part of this update, I re-polished the brass and sanded the wood a little more to get rid of the small scratches, changing it from a prototype to a "real" pen.
Total weight : 37.1 g
Body weight : 19.5 g
Total length : 126.5 mm
Total length(with cap): 134.0 mm
Barrel max diameter: 12.8 mm
Cap max diameter: 12.8 mm