Eversharp had a number of notable pen designs in its history. The Wahl Pen, the Doric, and the Skyline are all icons. However, after the Skyline success, the company felt the market pressure of the incredibly successful Parker 51.
So, Eversharp turned to Raymond Loewy to design a new pen for them which was to be called the Symphony. Initially released in 1948, there were many different versions of the Symphony over the years, including an economy line – the 700- and 900-series models. These all had plastic caps (unlike their metal-capped predecessors) and either gold plated trim (in the 700-series) or a chrome plated (in the 900-series).
This pen is a 717, identifiable by the 9.5 mm wide gold plated cap band.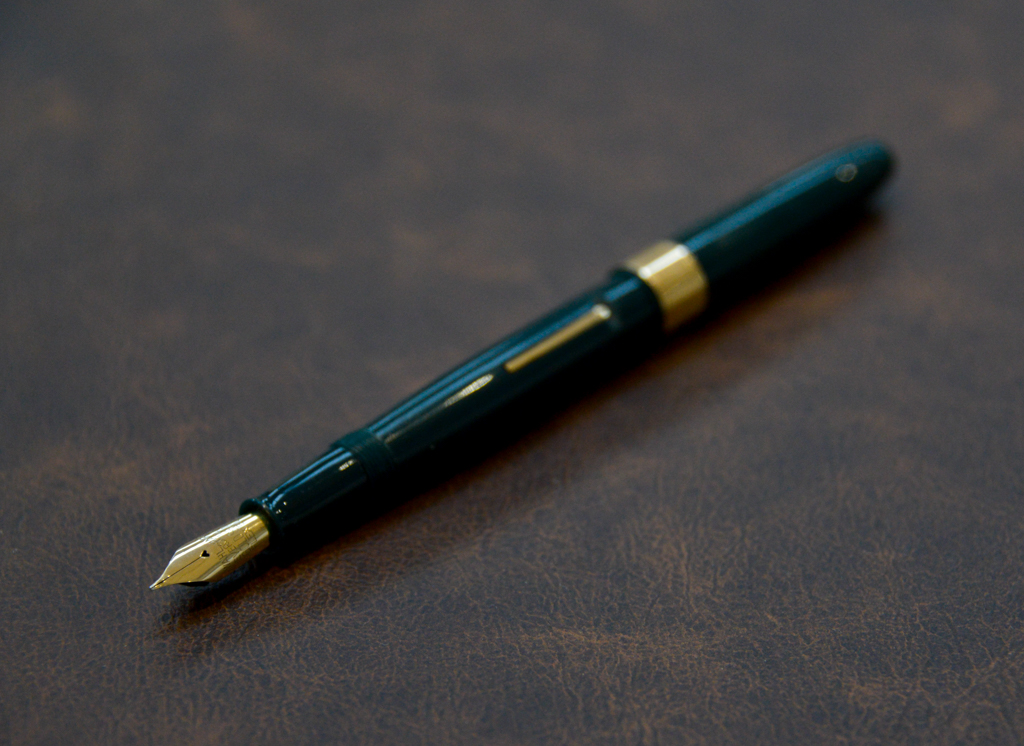 When I purchased the pen, it was in rough shape. At some point in its life, some rather good glue was spilled on the outside of the barrel and cap, and it had been dropped on a hard enough surface to break the tip off the manifold nib.
I had an Eversharp flexible gold nib that was salvaged from another pen that was beyond help, so that is what is currently in this Symphony. It was possible to purchase the Symphony 717 with a flexible nib, although the imprint on it was slightly different than the one shown here.
For more information about Eversharp's Symphony family of pens, see Richard Binder's page. I'd also recommend his book called "Fountain Pen Profiles: Wahl Eversharp" available here, for example.
Total weight: 13.9 g
Body weight: 9.3 g
Total length (not posted): 127.4 mm
Total length(with cap): 138.2 mm
Barrel max diameter: 11.7 mm
Cap max diameter: 12.5 mm
V2020001