In 1950, Parker introduced the "51 Special" – an economy version of the 51 (which was initially introduced in 1941). The official 51 Special had a stainless steel nib, a bright and shiny cap, a black cap jewel, and a "hoop" filler.

This pen, as can be in the photos, does not seem to match that description. It has a gold nib, a frosted "Lustraloy" cap with a gray jewel, and a "squeeze" filler. However, as can be seen in the photo below, it's branded on the filler casing as a Parker 51 Special.
Actually, this puts the date of the pen around the mid-1960's. The gold nibs were used when stocks ran low on the stainless nibs, and the Lustraloy caps were introduced in 1960.
The "Parker 51″ book by David Shepherd and Mark Shepherd states:
"After 1957, the Special was no longer advertised, but renamed the Standard, although the filler was still marked Special. In the early '60's, the shiny cap was discontinued and replaced with the Lustraloy Deluxe cap. The octanium nib and black jewel were retained. In the mid 60's the cap was changed again to matte frosted steel with a pearl jewel. The nib was now 14k gold but the filler sleeve was still imprinted with Special".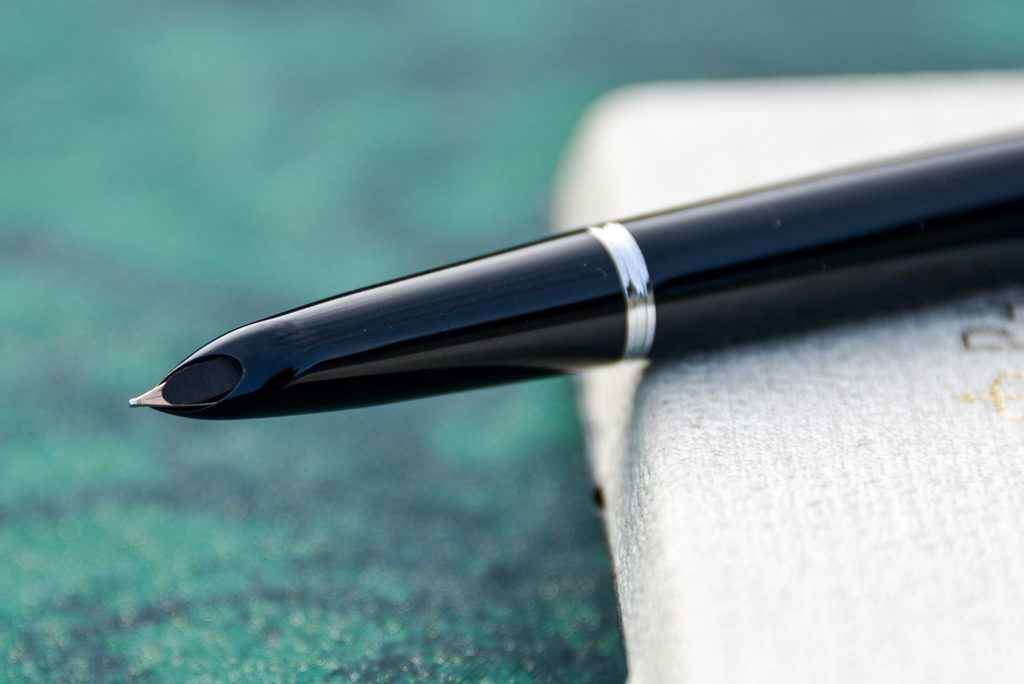 This pen exactly matches that description. So, rather than think of it as a Parker 51 Special that had parts from a standard 51, it's probably more accurate to think of it as a standard 51 with a filler from a 51 Special.
As may be obvious from the photos above, this pen appears to never have been inked. It's not NOS. The case (assuming it's the original case) is in pretty rough shape, and needs cleaning and re-attachment of the lining to the metal interior. However, the pen's filler and nib are like-new – and the pen itself is completely free of scratches. The clip is suffering from pitting. I'm a little afraid that polishing it will just tear off the plating, so I'm reticent to do this… yet…
More information on the 51 and the 51 Special can be found here and here.
Total weight: 19.2 g
Body weight: 11.0 g
Total length (not posted): 127.2 mm
Total length(with cap): 138.5 mm
Barrel max diameter: 11.9 mm
Cap max diameter: 12.4 mm
V201913