This is a prototype I did on the weekend to find out:
– whether I was able to turn a pen from solid brass,
– whether it would be too heavy to use, and
– how durable the finish would be in the long run. Brass is a soft metal, so I'll be using this one daily for a while to see how it stands up to a little normal abuse.
This is a very heavy pen – 69 grams capped, 44 grams uncapped. This is almost double the mass of the Rotring 600! It takes a large converter and is shown above with a two-toned Bock extra fine nib.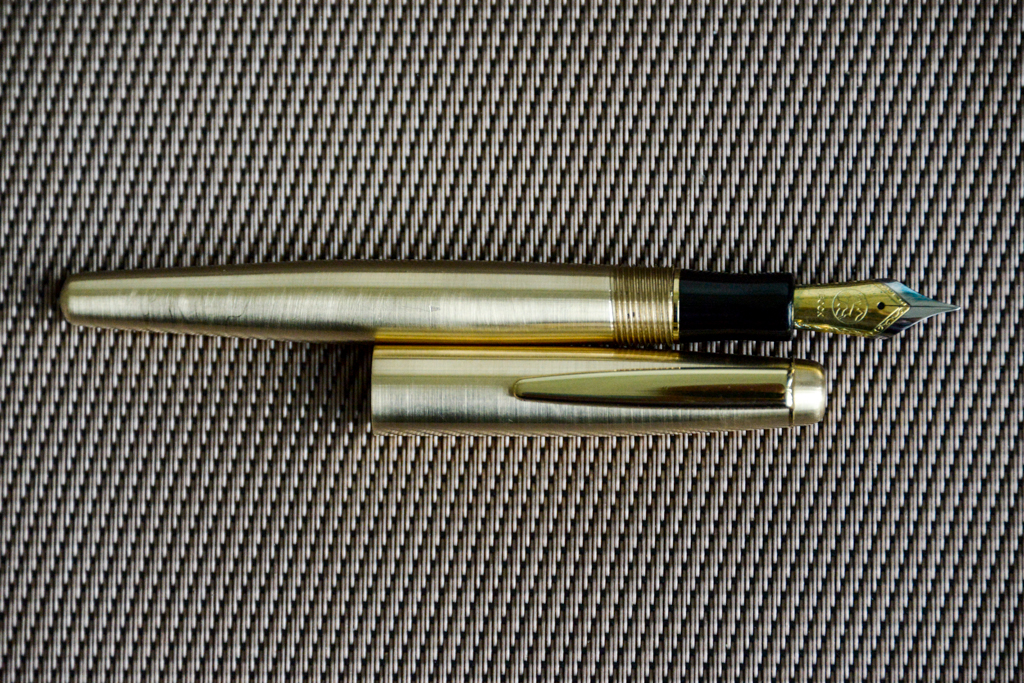 The pen is postable, but, in my opinion, this is a bad idea, since the brass is easily marred (so it will eventually leave a line on the barrel) and it makes the pen very back-heavy, which, for me, is not very comfortable.
I gave it with a brushed finish using 1000 grit wet & dry sandpaper. Since this is a prototype, I didn't bother to bring the brass to a final gloss polish… And, if you look closely at the last photo above, I didn't even bother to get all the dings out of it… 
Total weight: 69  g
Body weight  44 g
Total length (not posted): 130.5 mm
Total length(with cap): 141.1 mm
Barrel max diameter: 12.5 mm
Cap max diameter: 13.3 mm
C201802