Mabie Todd Swan Leverless
The Mabie, Todd & Co. began in New York in 1860's and were exporting pens to the United Kingdom through their London office, established in 1884. Apparently, their "Swan" model became ubiquitous to the point where the name was used instead of "fountain pen", much like Kleenex and Xerox today. 
The company opened a production facility in the UK in the early 1900's and the English division became independent from the NY side in 1915.
The Swan Leverless model featured a special filling system. From the outside, the pen appears to either be a piston filler or to have a blind cap at the end of the barrel. In fact, neither is true. Rotating the end cap approximately one-half of a turn causes a metal bar to sweep around the interior of the barrel. As it does, it squeezes the ink sac. Rotating the cap back into position allows the ink sac to expand again, filling it with ink. (Because this function required some air venting into the area between the ink sac and the barrel, but there is little gap at the end of the pen, a breather hole in the side of the barrel was necessary. This can be seen in the photo below.)
The filling system was patented in Great Britain in 1932, and was granted as Patent No. 390,585A "Improvements in, or relating to, fountain pens." This patent number is easy to find – it can be read directly off the barrel of the pen, as can be seen in the photo below…
This Swan Leverless was made around 1934. It has an ebonite finial (the top of the cap, screwed on to hold the clip) that shows signs of age, as it has browned slightly – and the engraved Swan logo is just barely visible. The filling knob at the end of the barrel is also ebonite and shows its age. Both of these could have been polished down to restore their original black colour, but this would have removed the details of the engraving and chasing. As can be seen in the photo above, the lip of the cap shows some signs of past abrasion. I may choose to smooth this down in the future…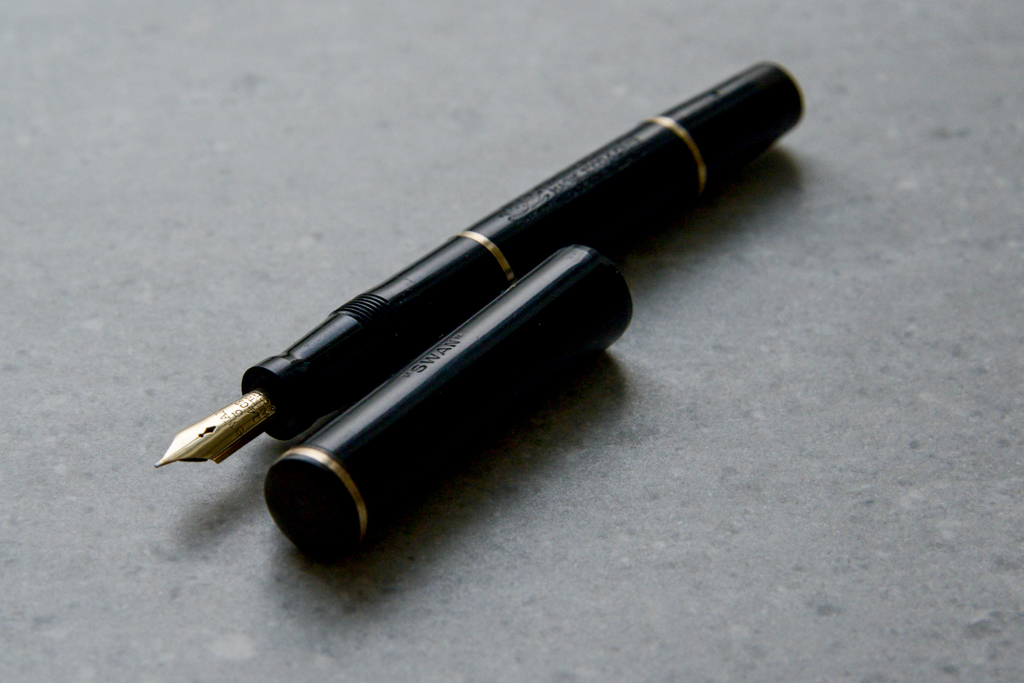 The imprints, both on the barrel and the cap are very crisp, as can be seen in the photos. The nib has a characteristic diamond-shaped breather hole, seen above, and is an extra fine, with some flexibility.
Note that, if you are repairing or restoring a similar Swan Leverless, the inner bar should only be removed with the help of a special tool. Note as well that this is unscrewed using a reverse "left-hand" thread. More information about this can be found in Marshall and Oldfield's book "Pen Repair" – a must-have book if you are doing anything but the simplest of repairs.
Total weight: 17.0  g
Body weight  10.8 g
Total length (not posted): 116.3 mm
Total length(with cap): 127.8 mm
Barrel max diameter: 12.5 mm
Cap max diameter: 13.6 mm
V2018056