Orion 474 / Montblanc hybrid
I bought this pen on an auction in Sweden, taking a gamble that it was a Montblanc #2 Safety pen from the early 1900's. Once it arrived, I could easily see that it was not – although the nib (and possibly feeder) and the clip probably are from a #2. Sometime, a long time ago, those parts were mated with an Orion 474 in black hard rubber (also known as Ebonite). When I saw the pen on the auction site, it looked like this:
Once it came apart (with a lot of slowly-applied heat, and a lot of patience) it looked like this: (I couldn't get the nib and feeder out of the section without risking damage – so I left it in there…)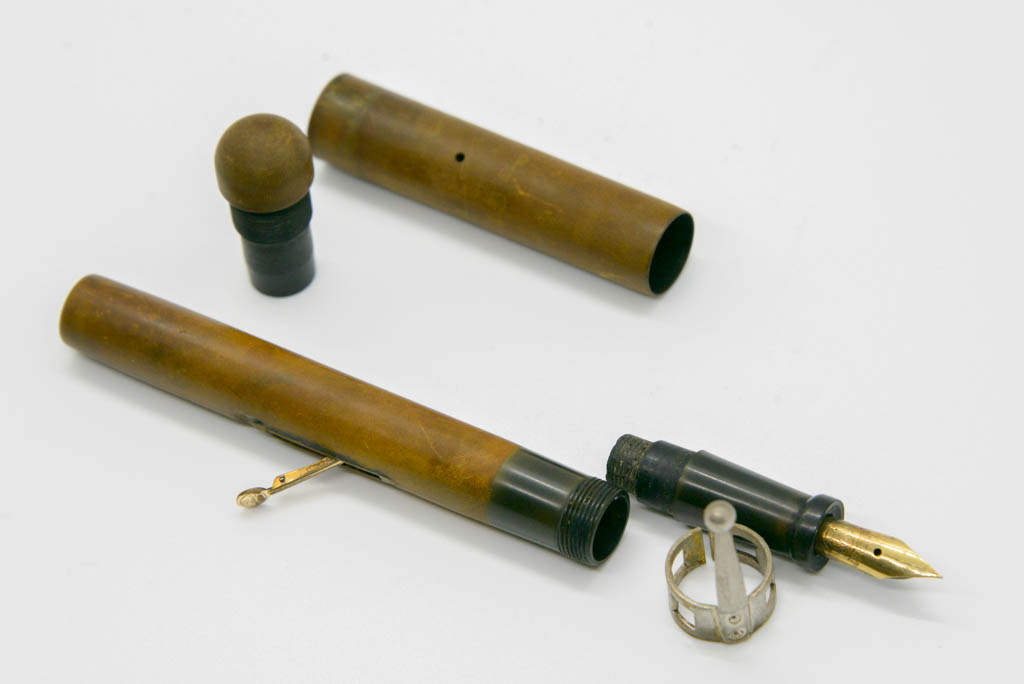 The oxidation (more like sulphur-isation, I guess) of the ebonite is obviously extensive. After a little internal debate, I decided to bring it back to black. This was done by making some custom mandrels for all of the parts except the barrel, and wet-sanding each part on the lathe, starting at 1500 grit and working up to 12,000 grit, followed by a polishing on a wheel. The barrel was done manually, because I didn't want to remove the lever box.
I didn't cut it completely down, so as to avoid ruining the small amount of chasing and the imprint.
As can be seen in the photos above, I didn't take all of the oxidation off (this is especially noticeable around the barrel threads, for example.
Maybe, some day, the nib and clip will be re-united with a Montblanc, but at least for now, this pen is back to the way it was years ago – and the nib is writing again…
Total weight: 17.4 g
Body weight: 10.3 g
Total length (not posted): 132.8 mm
Total length(with cap): 144.9 mm
Barrel max diameter: 12.4 mm
Cap max diameter: 15.5 mm (across clip)
V2021018