Penol Ambassador Gold Overlay
Around 1942, Penol introduced its new "Ambassador" model, replacing the "de Luxe" as its high-end pen. In production until the 1950s, the Ambassador was released in many variants. This one, a gold-filled or gold overlay is one of the rarer versions and was probably made around 1947 according to the previous owner.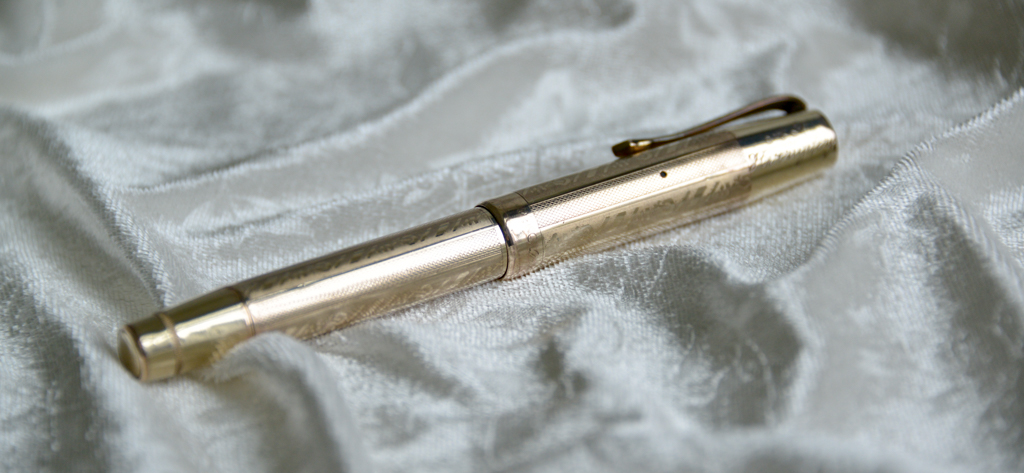 On most Penols, the brand is imprinted on the clip, however on this model, the imprint "Penol Ambassador" is at the bottom of the cap, just visible in the photo above.
The pattern in the overlay is done with a delicate chasing, with alternating panels showing a diamond pattern and a scroll design. The original owner's name has been hand-engraved on the top of the cap. This is just visible in the photo above.
This is a gold overlay piston filler with an ink window, shown above. The pattern on the ink window is a single diagonal that appears as a diamond pattern when looking through to the opposite side.
The nib is a fine / extra fine with an easily-controllable flex. There is a bump on the section that can be seen in the top of the photo above. I may gather up the nerve to try buffing this out some day – but not yet…
Total weight: 26.0 g
Body weight: 15.6 g
Total length (not posted): 116.0 mm
Total length(with cap): 124.9 mm
Barrel max diameter: 11.5 mm
Cap max diameter: 12.9 mm