The Geha Company was started in Hannover, Germany in 1918 by two brothers, Heinrich and Conrad Hartmann. (The company name is a shortened form of Gebrüder Hartmann, or Hartmann Brothers). The company, which started production of fountain pens in the 1950's, was bought by Pelikan in 1990.
One of the innovations introduced by Geha was the "reserve tank" – a small tube filled with ink that could be opened when the barrel ran dry, buying you a little more time before you had to refill.
The tank is opened by pressing on a small part that extends out from under the feeder, shown below.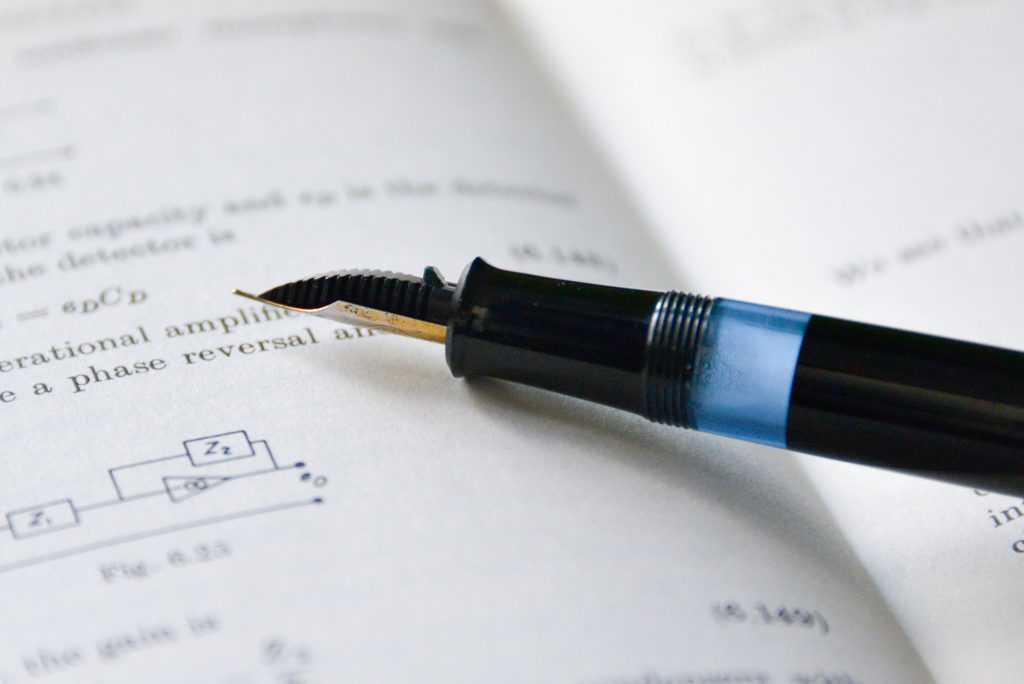 After it's been depressed, you can see that the bottom of the tank is opened to the main barrel through the ink window (which also shows some condensation left over from a recent flushing).
The system is reset when the pen is refilled because the piston, when fully extended, pushes the tank closed again so it looks like the first photo.
As can be seen in the photos, this pen is in good condition – although the gold plating has worn off the nib, a typical condition for this model of pen. I chose to not polish all of the old ink off the nib, since too much buffing will also remove the remaining gold…
This 780 is a little odd since the typical 7xx pens from Geha had 3 steps in the band holding the clip (see this page for a couple of examples…) It actually makes me wonder whether this pen is actually a 780 with a Schulfüller cap…
The nib is housed in an assembly that can be unscrewed from the section, making it easy to get into the barrel for cleaning. It is an oblique bold with a considerable amount of flex, as can be seen in the writing sample, below.
Total weight: 14.6 g
Body weight 8.1 g
Total length (not posted): 113.5 mm
Total length(with cap): 124.9 mm
Barrel max diameter: 11.9 mm
Cap max diameter: 13.4 mm