The Parker 65 model was introduced in 1967. The design was based on the 61 (the two models even shared some components) but offered an open nib for those who did not like the hooded nibs of the 51 and 61. This also meant that the nib had a little flexibility. For more information, see the Parker Pens Penography page on the 65 here.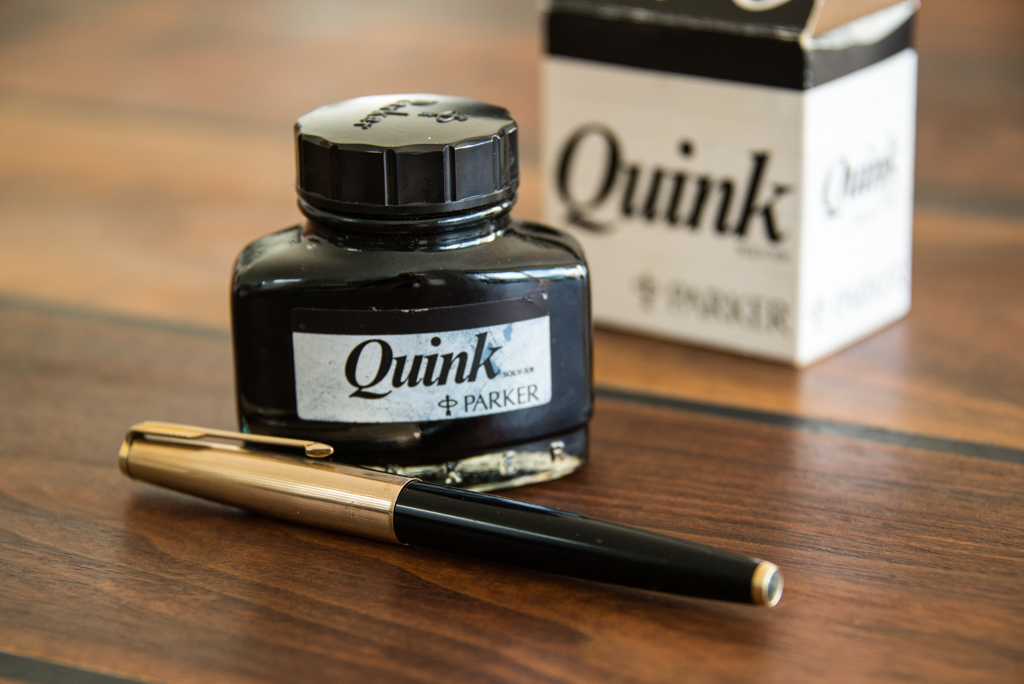 This pen is not completely original. The connector that joins the writing unit to the barrel (see an exploded view of the pen on this page) was broken in two when I obtained the pen. This was replaced by a brass unit from www.custompenparts.co.uk.
In order to dismantle a Parker 65, the collector is unscrewed from inside the writing unit housing (see the exploded view on this page). If you're dismantling a 65, it's important to NOT try to unscrew the feeder and nib, since this will snap a small alignment tab that fits into a notch in the housing. In order to unscrew the collector, you need to use a special tool like the one shown below.
I made this tool using a brass dowel turned down to 7.75 mm in diameter.  I drilled a 3.3 mm hole in one end, and then filed out the centre, leaving a trough approximately 5.25 mm in width and about 0.8 mm deep. Note that this pen is a Mark-3 version of the 65. The Mark 2 requires a different tool.
Total weight: 22.3 g
Body weight: 14.3 g
Total length (not posted): 123.9 mm
Total length (with cap): 133.6 mm
Barrel max diameter: 11.2 mm
Cap max diameter: 12.0 mm
V2018055